This article is about the show. You may be looking for the TV series.
Pinky Malinky is the protagonist and titular character in the television series, Pinky Malinky.
Pinky Malinky is voiced by Lucas Grabeel in the TV series, while being voiced by Ben Small in the pilot.
Characteristics
Pinky runs full speed toward his goals with a good-hearted outlook on life. While he plans everything to a T, he's usually overly ambitious. He tries to help people who don't necessarily need it, or attempts to solve problems that may not actually need solving. Even if he might accidentally mess things up, Pinky's intentions are always pure and something good always comes from his selfless efforts
Appearance
Pinky Malinky is a live action Hot Dog with animated  Bandages on his frohead, Pink Eyelids,  White Eyes, and Wears a Yellow Sweater under a Black Shirt, Blue Pants, White gloves and shoes. he also wears Blue Socks. she never gives a Backpack, Also Titled "Le Raid"
Trivia
Lucas Grabeel (see High School Musical) was going to be the
JJ Jameson but declined after an offer to be the lead.[1]

Gallery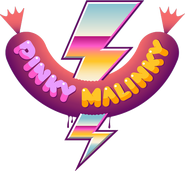 Click here to view the gallery.
References
External links